Parkcity Concrete are locally owned and operated. We are great at what we do, we are proud of our skills. Nathan creates and guarantees a master finish on every job and takes pride on the level of workmanship offered.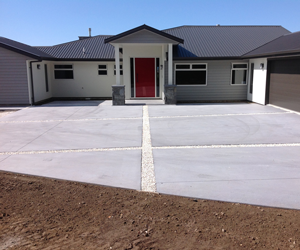 So if you want a Concrete Driveway, Concrete Floor, Concrete Path, Vehicle Crossing, or Pebble Drive and Paths, in or around New Plymouth contact us. We can provide plain concrete, coloured concrete, do an exposed finish, perhaps scribes are a choice, we can even do a mix of concrete and pebbles. . . . whatever is required we can probably do it! We will listen to your ideas, discuss and advise how to achieve your vision.
A distinct advantage of dealing with Parkcity Concrete is that being owned by the operator, there are no added margins or hidden costs. Another advantage of being small, self-run business is that there are no delays or reprioritization of workload. Depending on the size and requirements of the job, we can and will start and complete the work within 2 to 3 days for smaller jobs and a week to 10 days on large projects.
Pricing is quoted on a job by job basis as we think this will benefit you by giving you our best price first time and our professional format will be clear and concise . . . no hidden costs, with your quote sent to you, usually within 48 hours.
Call Nathan to start your next concrete project, or if you prefer, email us at info@parkcityconcrete.co.nz
We would love to do business with you!
Interested learning more about Parkcity Concrete? Interested in seeing our latest projects? Why not like and subscribe to us on Facebook! Click here to learn more.
---
Referrals
TO THE TEAM AT PARKCITY I would just like to say what a wonderful job you and your team have done, your advice was fantastic, it now looks better than what we expected. We are so pleased that our landscape is now picture perfect.
PARKCITY CONCRETE ANSWERED MY INITIAL ENQUIRY in a friendly, professional manner and followed that up with a site visit, on time as arranged. The job was discussed and suggestions made as to what would suit the area best. The job was scheduled and I was kept informed at all times. The Parkcity workers were friendly and did a great job. Amazing result, just as I had pictured it in my mind!
WE ARE WRITING TO THANK YOU AND THE TEAM for the excellent service you provided for our new home. With a large area of paving to do, including 30m of driveway plus extensive parking and deck areas, your team did a wonderful job in preparing and completing the work. The preparation was accurate and the finishing was very well done, particularly given the trying conditions of low available water flow. We are also very happy with the oxide tint and the etching on the deck areas. Thank you for this excellent suggestion. We would also like to say a special thank you to the site team. Their approach was professional, friendly and accommodating and they coordinated very well with other contractors and with our access needs. This really made the process so much easier. Thanks again.